Chambers of Commerce can create and publish their own maps. They have the sales staff, artists, and printers among their members. They just need a mapmaker. That's where we fit in.
THE SELF-PUBLISHED CHAMBER MAP
Your chamber of commerce can publish its own map and enjoy the benefits of controlling the content, timing, and profits while better serving your membership.
Several of our clients have done just that. They assessed their membership and staff and realized they have the most important ingredients needed to publish a map. Those ingredients are:
• someone who can sell advertising
• a graphic artist to create the layout and add text, images and ads to it
• a printing company
• a mapmaker
WAIT…WHAT? A MAPMAKER?
A map publication has to have a map. Your city's engineering or planning department may already have a current map that you can use. But make sure it's exactly what you want. If its style is "too engineering" or visually blah, or it shows too much or too little of the area you want on your map, we can help.
Not only can we make a modern, professional, visually pleasing map but we can also create the layout and handle the text, images and ads that will tell your story and sell your city. We can fill the shoes of both graphic artist and mapmaker.
That leaves ad sales and contracting with a printer as your biggest challenges.
VESTAVIA HILLS
In the Birmingham Metro area lies the suburb, Vestavia Hills. In itself it's a vibrant city, offering shopping, accommodations, great dining, and beautiful residential neighborhoods. Within a short drive there's plenty of recreation, arts, sports, universities, and a popular zoo and botanical garden.
Rather than a publication with ads surrounding the map, the Vestavia Hills Chamber requested that their map fill the front side and that ads, images, and information fill the back side.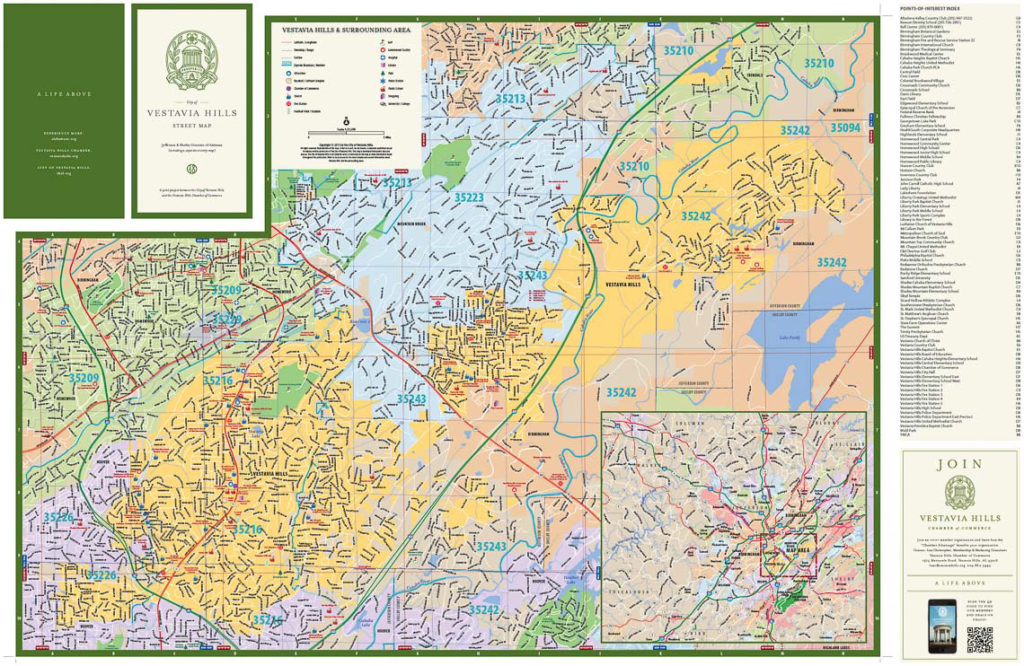 SO HOW DOES THIS WORK?
First, email us and we'll set up a call at your convenience.
Then we'll talk about your needs, timetable, budget and we'll tell you how we can assist. We can provide samples and ideas. Once we've agreed on what we can do for you, we'll send an estimate.
HOW MUCH DO YOU CHARGE?
It depends on how detailed your map will be as well as how much advertising, images and text will go in the layout. Because we build maps customized to our clients' needs, we can provide a reliable bid based on our conversation with you (by email or phone). Just reach out to us and we'll be glad to present an estimate for producing your map.
WHAT WE NEED FROM YOU
To develop your publication, we'll need text (such as city history or highlights), logos, high-resolution photographs or artwork, and, of course, ad artwork from your sponsors.
NEXT YEAR
The cost of producing the map publication is an investment. That's where the bulk of your cost is spent. The next year and thereafter, the map can be updated or simply reprinted as is. If we update the map, we'll update the cartography (usually adding new streets, developments, schools, etc.) and swap out advertisers. So our cost would be relatively minimal. Of course, you'll need to factor in printing for a reprint or an update. If you have a member printer, you can probably get a very competitive price.
To learn more, email us about your chamber and what you need for a map.